MOJO® Barriers has been the leading global provider of stage barriers since 1988, working with some of largest and most successful tours and events including U2, Metallica, Madonna, The Rolling Stones and Bruce Springsteen. Below is just a quick glance of the company history.
MOJO Barriers is the original international supplier of aluminium stage barrier systems, providing an extensive range of products and services to live events including festivals, tours, corporate events, sporting and cultural occasions. The favourite among event organisers looking for a safe, sustainable and cost effective system, MOJO Barriers continual investment in research and development results in proprietary event barriers and related products which are adaptable, reliable and proven to improve safety.
MOJO Barriers is skilled at working closely with clients to design and build bespoke event barrier configurations and layouts for each event to ensure optimum safety for guests, performers and crew. Offering an international network, MOJO Barriers has been the trusted global stage barrier supplier for over thirty years.
"If you're at a concert that's got a large crowd and a front of stage area that's likely to be busy and you're not met with proper mojo barriers up there, I would suggest you find somewhere else to enjoy the concert from." (Source: www.cuckoo.ie)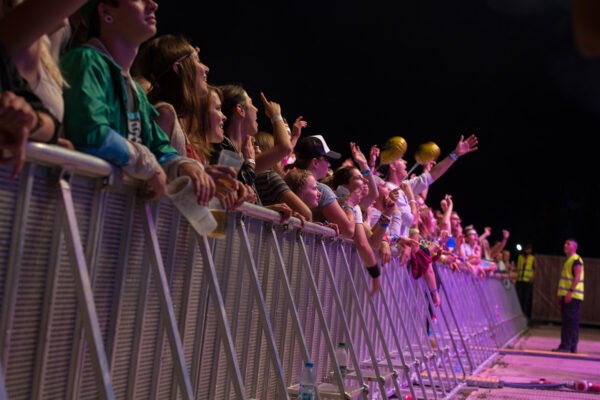 Health and Safety of audiences, artists and production teams is at the core of Mojo Barriers philosophy. Mojo Barriers' event barriers segregate the audience from the artists and the working production zones, creating safe, secure areas for those within each. They are the only production equipment the audience touch, so their integrity is vital.
Sustainability is a key concern for Mojo Barriers which ensures that its products have the least environmental impact possible, and the reconfigurable and robust designs ensure products which have a long shelf life and can be re-used across various events and locations. Manufacturing the barriers from aluminium ensures the system is strong but also lightweight – saving on installation time and manpower. Skilfully designed to fit together in pallets of five or ten, the system also cuts down on the transportation costs and carbon footprint associated with standard systems. All products are designed with this ethos in mind.
Mojo Barriers is born from a desire within Holland-based Mojo Concerts to improve management of crowds through the deployment of safe and sustainable barrier options for live events. Mojo Barriers steel barrier products are an instant success being used for the next decade by major touring artists including Prince, U2 and the Rolling Stones.
Mojo Barriers develops an aluminium barrier system which is quickly introduced to the market. The change in material from steel to aluminium results in a forty per cent weight saving, meaning the product is much more cost effective to both transport and set up. This aluminium barrier is Mojo Barriers' most successful product, continuing to set standards across the industry and be copied by many over a decade later.
Mojo Barriers launches its UK office near London. The UK office has gone on to work at major festivals and events across the country including tours like Katy Perry and the Foo Fighters, festivals such as Reading and Glastonbury and a vast array of other events including film premiers, council, retail and sporting events.
Mojo Barriers launches its USA office, now based in Pennsylvania, which is headed up J.B Dolphin and provides barriers to a wide range of sectors across the United States.
A section of aluminium barrier is showcased in an exhibition at the Museum Of Modern Art (MOMA). The New York based museum held an exhibition called 'SAFE: Design Takes On Risk'. One of the strangest, yet coolest, things to happen in Mojo Barriers' history!
Mojo Barriers develops the Barrier Load Monitor System (BLMS). The BLMS is a new system designed to measure the pressure applied to a barrier by crowds and represents a significant step forwards in health and safety of crowds attending live events.
Mojo Barriers launches a research programme utilising the BLMS and in partnership with Bucks New University. Launched at Roskilde Festival in Denmark the research aims to provide – for the first time – scientific research on the best barrier configurations to keep crowds safe; the research is ongoing to date.
Mojo Barriers launches its Gatekeeper system, a unique turnstile product which captures real time data and can be used for event entrance sites and VIP areas.
A year overshadowed by the tragic and unexpected death of Mojo Barriers MD Patrick Jordan; a shock to the company and the industry as a whole. Patrick was a great man who was highly respected and his loss continues to be felt to this day.
Mojo Barriers expands its UK presence even further, opening a Northern office in York, allowing the company to offer a seamless service to events across the country.
Mojo Barriers continues to expand a network over 14 international distributors, which most recently include New Zealand and Norway. This global expansion enables Mojo Barriers to support international tours and local shows with equipment and expertise across the global stage barrier market.
Ongoing research and development suggest that two exciting new products are to be launched this year which will revolutionise the live event industry. Watch this space.
MOJO BARRIERS ACQUIRED BY EVAGO GROUP
The EVAGO Group, which included German full service event company BÜMO®, has taken a significant step in its expansion to become one of the world's largest players in the growing live events market. By adding the Mojo Barriers range to its portfolio EVAGO Group also secures access to important international crowd management and event infrastructure markets.
Mojo Rental takes over worldwide Mojo Barriers rental business and bundles all competences of EVAGO Group in this new worldwide brand.
Mojo Rental also takes over TERRAPLAS' worldwide rental business with almost 30 years of experience in turf protection.
Shows, Venues & Festivals
2012
Madonna – MDNA Tour in Europe, USA
Rock Werchter, Belgium
Roskilde Festival, Denmark
BT London Live, UK
Orion Music and More, USA
2013
Sonisphere Barcelona, Spain
Rock Werchter, Belgium
Hellfest Clisson, France
TomorrowWorld, USA
Leeds & Reading Festival, UK
2014
G20 summit, Australia
Zwarte Cross Festival, Netherlands
Rock Werchter, Belgium
Rock en Seine, France
Roskilde Festival, Denmark
2015
ACDC – Rock Or Bust World Tour
Taylor Swift – '1989 World Tour'
Primavera Sound, Spain
Zürich OpenAir, Switzerland
Kenny Chesney – 'Big Reveal Tour'
2016
ACDC – Rock Or Bust World Tour
Madonna – MDNA tour
Muse – Drones Tour
BRIT Awards – London
Red Hot Chilli Peppers- The Getaway World
Tour
Bruce Springsteen- The River Tour 2016
Sziget Festival, Hungary
BoomTown Fair, UK
2017
Lowlands, Netherlands
Rolling Stones – No Filter European Tour
Rock im Park, Germany
Download Festival, UK and Spain
Glastonbury Festival, UK
Pinkpop, Netherlands
Europa League Final Celebrations, Netherlands
Katy Perry – Witness World Tour
G-20, Australia
2018
VG Lista, Norway
Down the Rabbit Hole, Netherlands
Rock en Seine, France
Ibiza Classics Tour
Cruilla Festival, Spain
2019
Primavera Sound, Spain
Marco Borsato, Kuip Netherlands
Metallica, Koning Boudewijnstadion Belgium
Phil Collins & Muse, Goffertpark Netherlands
Lollapalooza, France
Bon Jovi Tour